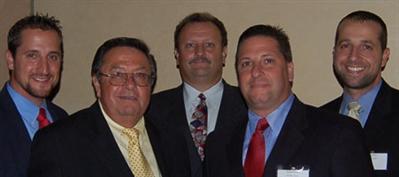 M
ason-Dallas, Inc. was founded 1978 based on a philosophy of providing superior customer service and the highest quality engineering design and technical products to the HVAC industry for vibration/isolation, seismic and noise control. At the time of our incorporation, Mason Industries was our sole source supplier for these products and continues to be one of our most valued business resources. This and the other long-time relationships with our vendors are testimony to our commitment to providing quality service and support to our business associates. This same dedication carries through to our customers. Most of our initial customers remain our customers today.
​ "Quality Products, Customer Service and Added Value" remain the cornerstone for Mason-Dallas. In order to provide solutions in response to our customers' needs a wide range of HVAC, hydronic, vibration/seismic and noise control solutions have been added to the Mason-Dallas line of quality products.
Mason-Dallas' growth over the years is a direct reflection of outstanding customer service and the on-going addition of quality products. Hyspan Precision Products, 1986; Insul-Pipe Systems, 1993; In more recent years we have added Advance Products and Support (Innerlynx Mechanical Pipe Seals), Encore International, Hyspan-Barco, Mercer Rubber, H.O. Trerice Co., Miro Industries, Mueller Steam Specialty, Wessels Company, TAD & Associates (Trasor Corp), Maid O' Mist, Carpenter & Paterson, Humane Mfg, Rapid Positioning Clips, George Koch Sons and Griswold Controls. As Mason-Dallas continues to grow, we have identified and added services to accommodate our customers changing needs. Local fabrication capability exists to produce supplementary steel products used in conjunction with our line of vibration and seismic control products. We stock a line of items identified as "most often requested" in order to quickly respond to our customers needs. Another positive move that demonstrated the continued commitment of superior customer service and quality products was the transition to the next generation of the Farco Family. This development has assured the continuation of Mason-Dallas philosophies and has resulted in new ideas and strategies as well as introduction of new technology that will serve Mason-Dallas and their customers better.
Mason-Dallas considers technology an important aspect of doing business and a resource which allows us to better serve you. Internally, we have initiated a digital filing system and upgraded all computer hardware and software. We will continue to use technology to keep up with both ours and our customers changing needs. Over the years Mason-Dallas, Inc. has provided products for thousands of projects. Many of these are highly visible, prestigious facilities such as the multimillion-dollar Dallas Cowboys Stadium, Winspear Oprah House, Bass Performance Hall, Meyerson Symphony Center, DFW Airport and the George Bush Presidential Library. Small project or large, Mason-Dallas will continue to provide the "best of the best" products and customer service. Click on the View Our Work or the Project List page for information to see the wide range of projects for which we have supplied products and services. When you need quality, state-of-the-art products, qualified technical support and complete customer service and follow-up, we are here to serve you. No matter how simple or sophisticated the project, we would like to assist you, whether in concept, specification or details.
We are committed to offer our clients the highest quality top-of-the-line Mason-Dallas Products, supported by outstanding customer service.